KEEP YOUR BABY OCCUPIED FOR HOURS WITH THIS TOY AND STRENGTHENS THEM FAST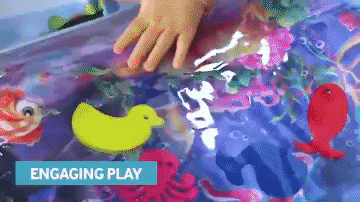 A water play mat that your baby will love spending time on! Are youlooking for a great play mat for your baby? Do you want to help your baby build strength in muscles faster? Inflatable Baby Water Play Mat is everything your baby needs for good tummy time.
Perfect tummy time play mat that helps babiesdevelop better muscle strength in the back, legs, arms, and neck. Just fill it with water, place your baby on the play mat and watch their eyes spark up with excitement!
100% safe for your baby. It made form safe and premium eco-friendly BPA-free materials. Inflatable, portable, easy-to-clean and store. Your baby can enjoy playing with it whether you're at homeor traveling.